Lovecraftian horror is a subgenre of horror fiction that emphasizes the cosmic horror of the unknown (or unknowable) more than gore or other elements of shock. It is named after American author H. P. Lovecraft (1890–1937).
Title: Die Rückkehr der Hexen
Summary: In den frühen Tagen des Oktobers 2020 schrieb ich eine Kurzgeschichte für den jährlichen Halloween-Wettbewerb von Renderosity. Das damalige Thema war Kostüme, Kessel und Gebräue (English: Costumes, Cauldrons & Concoctions), und mein Beitrag Die Rückkehr der Hexen (English: Return of the Witches) schaffte es auf den ersten Platz. In dieser Geschichte erzähle ich von dem bösen Plan eines Hexenzirkels, New Arkham mit Hilfe eines abscheulichen Grimoires unter seine Kontrolle zu bringen. Und natürlich gibt es in der Geschichte auch einen bedrohlichen Kessel, in dem sich ein blubberndes Gebräu zusammenbraut. Wenn du wissen willst, ob deren Pläne aufgegangen sind, lade dir die PDF-Datei herunter und hab Spaß beim Lesen.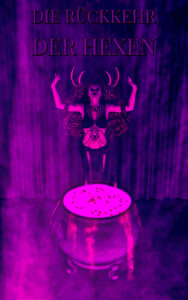 Die Rückkehr der Hexen
Title: Return of the Witches
Summary:
In the early days of October 2020, I wrote a short story for Renderosity's annual Halloween Contest. That year's theme was Costumes, Cauldrons & Concoctions, and my entry Return of the Witches managed to made first place.
In this story, I told of a coven of witches' evil plan to bring New Arkham under their thrall with the help of a vile grimoire. And naturally, the story also has a menacing cauldron with a bubbling concoction brewing inside.
If you want to know if their plans went to fruition, download the pdf-file and have fun reading it.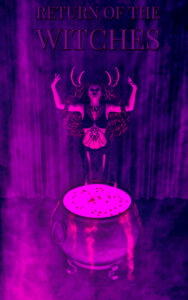 Return of the Witches
Title: Sie waren immer da!
Summary: Im Oktober 2019 schrieb ich für einen Halloween-Wettbewerb, dessen Thema "Ever Watching Eyes" war, eine Lovecraftsche Kurzgeschichte über eine junge Frau und mysteriöse Augen, die sie von außerhalb ihrer eigenen Welt beobachten. Die Geschichte gewann den zweiten Platz in der Schriftsteller-Kategorie und kann entweder in der englischen Übersetzung auf der Wettbewerbsseite gelesen oder hier auf Deutsch heruntergeladen werden. Die PDF-Version enthält ein Bild, das ich für denselben Wettbewerb, allerdings für die 3D-Kategorie, gemacht habe.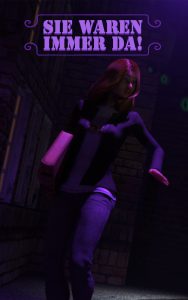 Sie waren immer da!
Title: They were always there!
Summary: In October 2019, I wrote for a Halloween contest, whose theme was "Ever Watching Eyes," a Lovecraftian short story about a young woman and mysterious eyes watching her from outside her own world. The story won second place in the writer's category and can either be read on the contest page or downloaded here. The PDF-version includes an image I made for the 3D category of the same contest.​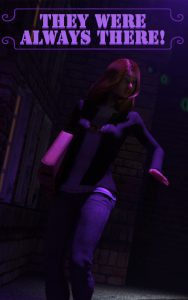 They were always there!