Title: Der Abgrund
Summary: Der Abgrund ist eine alte Geschichte, die ich vor vielen Jahren geschrieben und als die Geschichte ausgewählt hatte, die ich als erstes übersetzen wollte. Als ich die Geschichte dann Ende Oktober 2019 veröffentlichte, hatte ich auch einige digitale Bilder erstellt, um den Text zu begleiten. Diese illustrierte Ausgabe war zunächst nur auf meiner Patreon-Seite erhältlich, doch als Geschenk zu Weihnachten 2019 stellte ich sie auch hier zur Verfügung. Die Geschichte handelt von einem Mann, dessen Welt in einem Inferno vergeht und der daraufhin in den Abgrund stürzt, wo er seine wahre Bestimmung erfährt.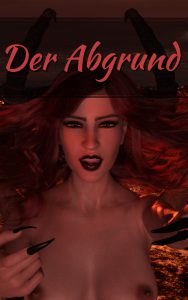 Der Abgrund
Title: The Abyss
Summary:
The Abyss is an old story I wrote many years ago and chose as the story I wanted to translate first.
When I published the story in late October 2019, I created some digital images to accompany the text. This illustrated edition was initially available only on my Patreon page​, but as a gift for Xmas 2019, I also posted it here.
The story is about a man whose world perishes in an inferno and plunges subsequently into the Abyss, where he discovers his true destiny.
The Abyss