Title: A Warning to Humanity
Summary: Sometime in October 2022, I wrote once more a short story for Renderosity's annual Halloween Contest. That year's theme was A Hallowed Tale. In this short story, the scholar and scribe, Magnus Leander, gives a dire warning to Humanity. If you want to know why he penned this warning, download the PDF and have fun reading.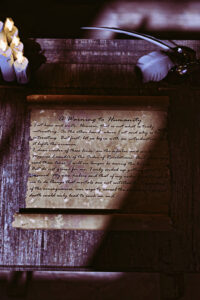 A Warning to Humanity
Title: Eine Warnung an die Menschheit
Summary: Im Oktober 2022 schrieb ich mal wieder eine Kurzgeschichte für den alljährlichen Halloween-Wettbewerb von Renderosity. Das Thema lautete "A Hallowed Tale". In dieser Kurzgeschichte richtet der Gelehrte und Schreiber Magnus Leander eine düstere Warnung an die Menschheit. Wenn du wissen willst, warum er diese Warnung verfasst hat, lade dir die PDF-Datei herunter und hab Spaß beim Lesen.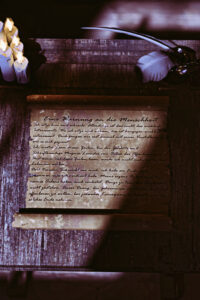 Eine Warnung an die Menschheit